We've been playing in my bedroom for the last few weeks, and I love having the instruments around me. In my eyes,
nothing
beats waking up on a futon next to a drum kit and a green mic stand.
Anyways, I thought it'd be cool if I took some shots. I made two panoramas. The pics are huge, so make sure you click the thumbnails to open up the photobucket page. And then make sure you view them at 100%,
it makes a difference
. =]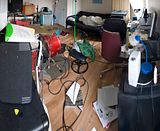 And this is my kit, Prudence, in her current set up. Two floor toms, a Sabian HHX power crash, AA med crash, ride and high-hat. Actually the high-hat is a B8, but we'll just pretend. Gibralter hardware, Westbury shells: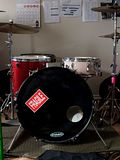 And there we go.
Oh! And as long as I'm blogging...
I hope everyone knows of my infatuation with
Quote Unquote Records
... Well, one of my all-time favorite indie-bands,
Shinobu
, just released their newest/oldest full length for free to download on there. You should go
check it out
if you're into sloppy-lo-fi rock. Some of us are. <3